Welcome to Inno Bagclosures
Based in Melbourne, Victoria, Inno Bagclosures is a supplier of high quality bag clips and closures to the Australian and New Zealand bakery and produce industries. With over 20 years experience in the market, Inno Bagclosures are proud to have brought genuine competition to a market that has been previously dominated by one supplier - Finally, there is an alternative in the bag closure market!
All our products are made from 100% certified food safe materials and adhere to ISO9001 standards, ensuring the highest level of product safety and security. To make things easier for our customers, we have launched our online store to allow hassle-free purchasing.
Clips on Reels
Inno have a wide range of clips on reels, for use with either semi-automatic or fully automatic bag closing machinery.
Shop Now
Loose Clips, Ties and Bands
Check our our extensive range of loose clips and closure products, perfect for easy manual application with a variety of bread and bakery, confectionery and general purpose products.
Shop Now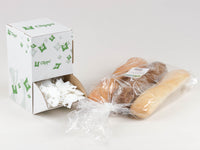 Heavy Duty Clips
When you need added closure strength, our heavy duty clips are the perfect option for closing bags containing heavier products; such as apples, potatoes and other fresh produce.
View Product
GET IN TOUCH
Want more information, samples, advice, or to place an order over the phone?
Please feel free to contact us today.
Contact Us